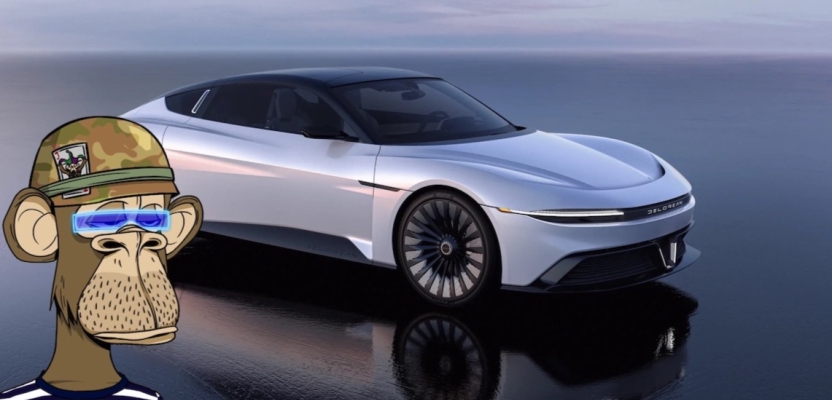 Open Swim CBO Nate Bloom Named Web3 Brand Ambassador for DeLorean
November 18, 2022
Published By Hype
DeLorean Motor Company continues to advance the automotive experience on the blockchain with the addition of Open Swim Chief Blockchain Officer Nate Bloom as their first ever Web3 Brand Ambassador. 
"I was so excited when this opportunity came about," shares Bloom. "From everything to my ape identity down to my IRL persona. Being a mechanic born in the 80s with a love for technology, it seemed like the absolute perfect fit. Always wanted a DeLorean, too. Still waiting on that."
As Open Swim's Chief Blockchain Officer, Bloom guides interested partners in development to their own properties, relationships, sponsorships and fundraising. Prior to his role with Open Swim, Bloom dedicated his early career to his love for cars and spent 16 years as an automotive technician. Handy to have around, Bloom first worked with Open Swim as a mechanic on feature film Centigrade and more recently stepped in again serendipitously to repair a car on another Open Swim feature this past August. Bloom encountered his first experience in the Web3 space after discovering digital NBA trading cards and as he continued to explore and develop his knowledge in the metaverse, it soon became his new found home, career and community. While still working as a mechanic, Bloom and a group of friends formed a community for NFT enthusiasts called the "Non-Refungible Network" that has continued to thrive featuring content including podcasts, blog posts, videos, Discord chats, Instagram and Twitter spaces all revolving around the education of NFT's. His new found role with DeLorean — turned full circle moment — combines his love and knowledge of both the automotive and Web3 space making for an even better fit as DeLorean's new voice on the blockchain. 
"I can't imagine a better ambassador for DeLorean," expresses Open Swim EP, Amyliz Pera. "What other CBO can boast years of experience as a mechanic? Additionally, Nate has consistently been on the forefront of Web3 trends, and a brand like DeLorean has an obvious connection to a marketplace where limited edition products can drive up the value." Open Swim Founder/Director Bradley Ross adds, "Open Swim has direct-to-brand experience, in particular with companies entering a new space or startups that are not ready for what an agency requires to support the brand. Our model is intentionally malleable to allow production to simply be about making – whatever the idea. The future may not need roads but Nate is the perfect guide."